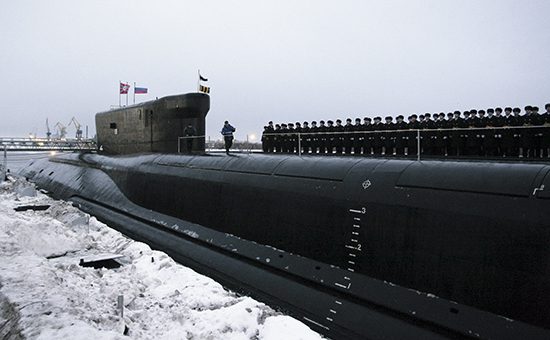 Cruiser" Alexander Nevsky »
Photo: TASS
Starting produced from the area in the Barents Sea to the Kura test site in Kamchatka. Shooting was completed submarine from a submerged position. Parameters flight path "Bulava" worked normally. Missile warheads successfully arrived at the Kura testing range on the Kamchatka Peninsula, which was confirmed by the data of objective control.
This is the first launch on board the submarine "Alexander Nevsky" after its transfer to the Navy, said Konashenkov.
November 10 source in the defense industry told Interfax on the planned transfer of the next run "Mace" in the fall 2015. The reasons for the cancellation run previously scheduled for November, were not called.
The next day, the Defense Ministry denied this information. War Department assured that the next launch will be carried out with Ballistic missile submarine before the end of this year.
Ballistic missile submarine "Alexander Nevsky" was founded on 19 March 2004 from the shipyard "Sevmash". December 23, 2013 was officially handed over to the Russian Navy.
«Bulava" – Russia's new solid-fuel rocket designed to arm nuclear-powered strategic missile "Borey" project. Missile system is able to carry up to ten hypersonic maneuvering independently targetable nuclear warheads. Since the beginning of the test "Bulava" was run 21 times, eight attempts have been found in an emergency.
The last bad start "Bulava" occurred September 6, 2013. During the tests, nuclear submarine "Alexander Nevsky" rocket nominally withdrew from the launch canister, but in the second minute flight failure has occurred onboard system. After this, Defense Minister Sergei Shoigu has suspended its order tests missile "Alexander Nevsky" and "Vladimir Monomakh". Military believes the cause of the launch failure "Bulava" manufacturing defect.