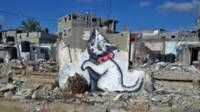 British street artist Banksy went to Gaza, where he created a few drawings: cat playing with valves, tower and carousel mournful figure instantly became hits on the internet.
According to a video report on the visit, published on the official website of the artist, his outing came in the "remote from the tourist routes" territory, which is a network of illegal tunnels.
The settlement, which visited Banksy, surrounded by a wall with barbed wire on three parties.
"The locals like it here so that they will not leave. Because they do not give "- Banksy says.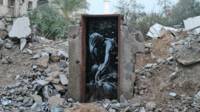 The artist recalls that in the summer of last year, the Israeli special operation destroyed 18 thousand. residential houses in the sector, and has since cement is not available in Gaza for construction.
"This cat says to the world that it lacks joy in life. Cat found with which to play. What's wrong with our children? "- Says a Palestinian Briton shot on video.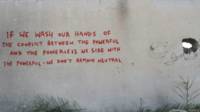 "If we wash our hands in the conflict strengths and weaknesses, we automatically take the side of power – in the conflict no neutral party" – wrote on one of the artist dilapidated walls.
The operation in Gaza, the Israeli army has been criticized among human rights defenders in connection with the deaths of civilians.
According to the Israeli leadership in the military command had no other choice but to respond to the Hamas threat and take control of weapons delivery channels.
In the fall of several European countries formally recognized the Palestinian Authority, which caused a storm of criticism from Israel.
"The states of Europe claim that they are on the Protection of the great principles of liberty, equality and fraternity. Alas, nothing can be so far from reality. I often hear, as European leaders proclaim Israel's right to secure borders. That's very nice, but I have to say – there is about as much sense as if I've been proclaimed the right of, say, Sweden to exist within secure borders "- criticized the EU Israeli Ambassador to the UN Ron Prosor.