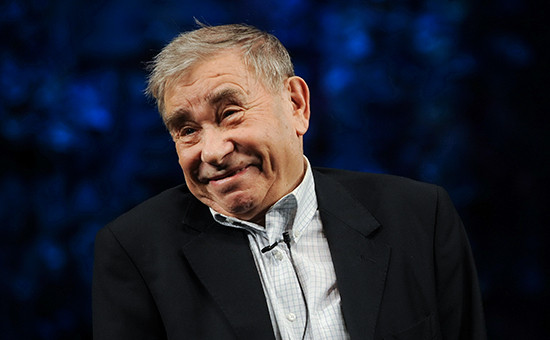 Michael Svetin during a benefit performance at the Theatre of Comedy. NP Akimov, 2010
Photo: TASS
The actor died on the morning of August 30 in intensive care Gatchina central district hospital. Reported TASS referring to the press service of the Leningrad region.
August 23 it became known that Sveta was hospitalized with a stroke. The actor underwent surgery, after which he was transferred to intensive care. It was reported that Sveta is in serious condition.
Michael Svetin was born in 1930 in Kiev. In 1970 he joined the Maly Drama Theater in Leningrad. Since 1980 he was an actor of the Leningrad Comedy Theatre. NP Akimova.
Sveta's film career began in 1973 with a starring role in "less than a year." Among the most famous works of Sveta in the film – the role in the film "Athos", "Can not be!", "The Twelve Chairs", "Magicians" and many others.
In 1987, Sveta was awarded the title of Honored Artist RSFSR, in 1996 became the People's Artist of Russia. In 2009, Sveta was awarded the Order "For Services to the Fatherland» IV degree.
As stated by the radio station "Moscow speaking" the artistic director of the St. Petersburg Academic Theater of Comedy. Akimova Tatyana Kazakova, a farewell for the actor can be held September 2. According to TASS referring to the director of the theater Elena Yastrebov, Sveta, is likely to be buried in the cemetery of St. Seraphim.
From the "Athos" to the "Wizards" 5 prominent roles Michael Sveta.