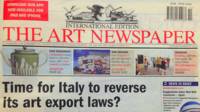 The new owner was the Russian Art Newspaper entrepreneur, collector and publisher Irina Bazhenov. On Thursday it was announced at a special ceremony in London gallery "Tate".
Art Newspaper – one of the most reputable and respectable periodicals about art. Founded the newspaper, originally came out exclusively in Italian called Il Giornalle dell'Arte, the Italian publisher Umberto Allemande.
appeared in 1990 English-language edition, with offices in London and New York quickly turned into the world's leading newspaper about art in the broadest sense of the word: museums, exhibitions, auctions, art market, and much more.
The main distinguishing features and main advantages Art Newspaper – the widest coverage of the world's artistic life, independence, objectivity and impartiality in presentation of information.
In addition to the original Italian and English, Art Newspaper published now in French, Greek, Russian and Chinese. In 2010, the license for the Russian-language edition of the acquired Inna Bazhenov.
The new owner
A graduate of the University of Nizhny Novgorod Inna Bazhenov since 1993 with her husband, Dmitry Samorukova engaged in manufacturing equipment for the oil and gas industry.
Ten years ago, she got into collecting art. Acutely aware of the lack of a serious art periodicals, initially planned to establish Bazhenov own publication, but then decided to follow the localization of the prestigious and authoritative international body. Art Newspaper, according to her, – Financial Times is the world of art.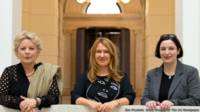 Art Newspaper Russia quickly consolidated its position as one of the most influential units of international publications and as the leader of the Russian art periodicals. Serious newspapers reputation was further strengthened with the establishment in 2013 of the annual award.
When Umberto Allemande decided to retire, Inna Bazhenov became the first person to whom he offered to buy the publication. He is honorary president of the Art Newspaper.
Inna Bazhenov announced that in no way not to interfere with the editorial policy of the publication. Retain their posts its CEO Anna Somers Cocks and editor in chief of Jane Morris.
In regard to future Art Newspaper, its main direction, said Inna Bazhenov – the development of an Internet portal.