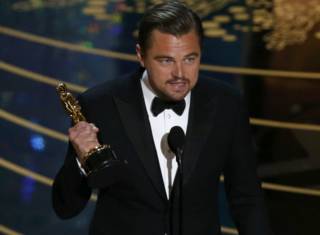 The main role in the film "Survivor" brought Leonardo DiCaprio first "Oscar" for his long acting career -. after six unsuccessful nominations
"Survivor" was awarded two more prestigious Academy awards: Alejandro Inarritu received the "Oscar" for best director, and Emmanuel Lyubettski – as the best operator
The prize for the best film, the surprise of many, went to the film "In the spotlight" – about. exposing journalists Boston Globe newspaper pedophiles in the Catholic church.
The award for best female lead had Brie Larson, played in the drama "Room".
In his speech after receiving the statuette 41 years DiCaprio said that in no way does not address today's award as a matter of course. He called as well to treat the earth's environment
"Climate change is real, they happen right now This is the most urgent threat to our mind, and we must act collectively and work together." -. He said
.
Di Caprio was not the only one who used the Dolby Theater podium in Los Angeles, which hosted the ceremony to draw attention to a variety of acute social problems.
The US Vice-President Joe Biden and singer Lady Gaga urged viewers do not remain on the sidelines if they witnessed sexual violence. Lady Gaga was nominated for "Oscar" for his song Til It Happens To You on the same subject, written for the movie "hunting territory", but the reward is not received, giving the Briton Sam Smith, sang the title song for the next episode of "James Bond" – "Spectrum ".
Sam Smith, in turn, coming on the scene, called for the cessation of discrimination against gays, lesbians, bisexuals and transgender people around the world.
The theme of discrimination hanging over" Oscars "shadow immediately after the nominations announcement, because among them there was not one black. Many activists considered it racist and called for boycotting the ceremony.
Over this entire evening scoff leading the ceremony, a black comedian Chris Rock. "I'm at the ceremony, Academy Awards, also known as Winners Choice of white people. Well you know, that if they nominated entertainer, I would not have taken".
The only Russian film to be nominated for "Oscar" in this year was the animated short "We can not live without space", but in the end the statuette in the appropriate category went to Chilean "Bear stories."
Most of the "Oscar", but mostly in technical categories, received the film "Mad Max: fury road" George Miller
.