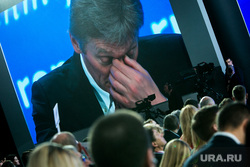 Sand stood up for the artistPhoto: Vladimir Andreev © URA.RU
Press Secretary of President Vladimir Putin Dmitry Peskov expressed his opinion regarding the statements of the artistic Director of Satirikon theatre Konstantin Raikin on Russia, writes Russian.rt.com.
Peskov said that in the quote that said Raikin, invested a different meaning, so it is not necessary to distort his words.
"it was about something else," — said Peskov.
Earlier it was reported that Konstantin Raikin during a performance about the fate of the great Russian poets who were being persecuted, called Russia a "nekrofilskim state."