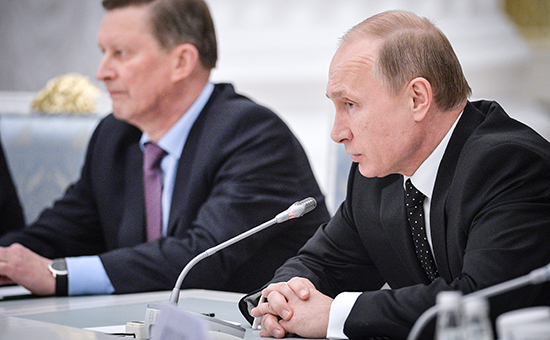 The head of the Russian presidential administration Sergei Ivanov and Russian President Vladimir Putin (left to right) at a meeting with representatives of big business in the Kremlin.
Photo: TASS
Russian President Vladimir Putin has called on business to take advantage of the current situation in order to diversify the economy. The Head of State said Friday night meeting with leading businessmen of the country at the Catherine Hall of the Kremlin.
«Before us are not easy tasks, may have to go through a difficult stage of our development. It is also clear that we can do and can even exploit the situation in order to solve the main problem that faces our economy over the past 15-20 years, and it is the task of diversification "- quoted by RIA Novosti Putin.
According to the president, "must be new niches that will be profitable to invest available resources." To do this, he said, you must have these resources, as well as to make sure that the state will help.
Putin also suggested businessmen to discuss including his proposed in the Address to the Federal Assembly amnesty capital.
«Such meetings are focused on what we all feel the support of each other, to feel the support of the state business and your teams," – said Putin. This year, according to Putin's meeting "is particularly relevant." "I am referring to external circumstances, in particular circumstances in the international market and, above all, of course, on the commodity markets, hydrocarbon raw materials from which much depends in our economy. I am referring to the situation in our financial systems, domestic already have in mind the state of the national currency ", – said the president.
At the meeting, 41 present entrepreneur. In addition to the Chairman of the Board of Directors of AFK "Sistema" Vladimir Yevtushenko, whose involvement on the eve of Mr Putin, gathered almost all the representatives of big business. This including businessman Roman Abramovich, president of Alfa Bank, Pyotr Aven, president of Lukoil Vagit Alekperov, the chairman of the board of directors "Renova" Viktor Vekselberg, Chairman of the Supervisory Board of "Basic Element" Oleg Deripaska, the founder of "Nafta Moscow" Suleiman Kerimov, Chairman of the Board of Directors "Rambler" Alexander Mamut, President "Interros" Vladimir Potanin, Mikhail Prokhorov ONEXIM founder and shareholder of "Volga groups" Gennady Timchenko. Arkady Rotenberg among the participants of the meeting no. The meeting was also no head of "Rosneft" Igor Sechin and representatives of business associations.
In addition to Putin, the Russian government was represented by the head of the Kremlin administration Sergei Ivanov, First Deputy Prime Minister Igor Shuvalov, presidential aide Andrei Belousov and chairman of the Central Elvira Elvira.