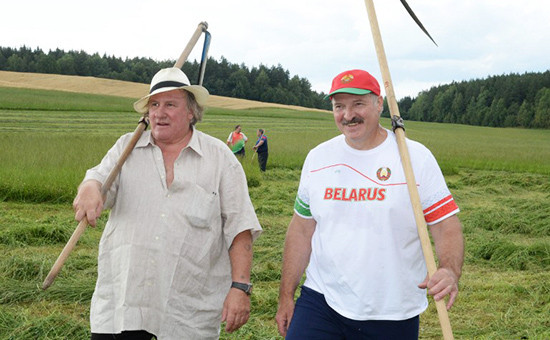 French actor Gerard Depardieu and the President of Belarus Alexander Lukashenko. Archival photo
Photo: AFP
The fact that Lukashenko has allocated $ 2 million, the newspaper "Izvestia" referring to the director general Gosfilmofond Borodacheva Nicholas, who is in the Russian side of the project.
According Borodacheva, immediately after the visit of Gerard Depardieu to Belarus Lukashenko called the Minister of Finance and ordered to allocate money. "We are working, producer Gerard Arnaud Froehly solve organizational issues," – said the general director of the State Film Fund.
Borodachev noted that Depardieu in the film will be a recurring role. "Most likely, he will play mechanics or similar character", – he added.
Depardieu has visited Belarus in late July. The president of Belarus Alexander Lukashenko met with the actor and taught his skill with a manual scythe. Belarusian media reported that Lukashenko and Depardieu discussed the support for agriculture and the cultivation of environmentally friendly products. Depardieu also supported the introduction of tax on parasitism of Belarus.
In September, in an interview with Le Figaro newspaper said the French actor's intention to soon move to Belarus and to live "among the peasants." Explaining the reasons for its decision, Depardieu said that Belarus is beautiful and the president – a "good man."