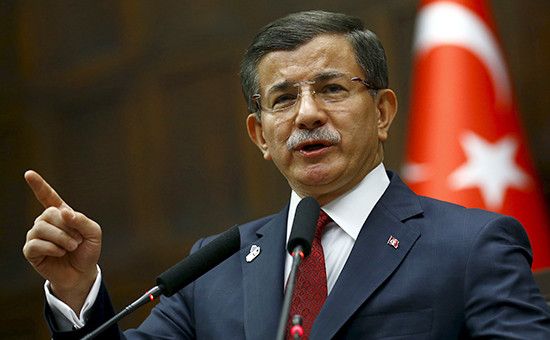 The Prime Minister of Turkey Ahmet Davutoglu
Photo: REUTERS 2015
After the introduction of Russian economic sanctions against Turkey, Turkish Prime Minister Ahmet Davutoglu said that Ankara expects from the Russian government a cold-blooded actions, reports Bloomberg.
«affect not only the Turkish economic interests, Russia also has economic interests in Turkey ", – said the prime minister.
According to Davutoglu, his goal was to reduce tensions between the two countries and prevent the recurrence of incidents such as the collapse of the Russian Su-24 on the Syrian-Turkish border.
Davutoglu said that Turkey is a priority for open communication with Russia, as well as the coordination of activities in Syria. According to the Prime Minister, the collapse of the Su-24 "has clearly shown that the operation in the same airspace two separate coalitions can always lead to such incidents».
The relationship between Russia and Turkey worsened after November 24 Turkish F-16 fighters shot down a Russian Su-24 bomber on the Syrian-Turkish border.
Ankara claimed that the attack on the plane was a response to the fact that the Su-24, within five minutes, ten times violated Turkish airspace and did not react to incoming alerts. The Russian Defense Ministry, in turn, argued that the Russian aircraft throughout the flight was in the skies over Syria.
Russia's President Vladimir Putin called the action of Ankara against the Russian aircraft "stab in the back" by "supporters of terrorists" . November 28, he signed a decree on sanctions against Turkey. The document provides for a ban on the import of certain Turkish goods, as well as a ban on charter flights between the two countries.
In addition, the decree bans or limitation of the organizations that operate in Russia under the jurisdiction of Turkey. This is a ban on the performance of certain types of work and services specified by the Government. Putin also forbade employers to recruit workers from among Turkish citizens to January 1, 2016.
A list of specific measures should the government. In addition, 1 January 2016 Russia will cancel visa regime with Turkey.
Earlier, Turkish President Recep Tayyip Erdogan stated that Ankara would like to see a more positive approach on the part of both sides of the conflict. The President once again stated that he would like to meet with the Russian leader in the fields of climate summit in Paris. According to him, such a meeting could be "an opportunity to restore relations" between Moscow and Ankara.
«We say Moscow: Let's discuss the problem and solve it. Let's not bring joy to others, spoiling our relations ", – said Erdogan.