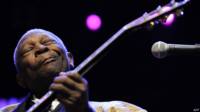 The famous American blues guitarist and singer BB King, who was called the king of the blues, died in Las Vegas at the age of 89 years.
According to the lawyer musician BB King died in his sleep. Not so long ago he was in hospital with a disease associated with diabetes.
BB King – whose real name is Riley B King – was born in 1925 on a plantation in Mississippi, and a child working in the fields, picking cotton. In the 1940s he was a street musician in Memphis, and in 1947 became a singer and presenter at a local rhythm and blues stations. In 1949, he released his first single, which was not a success.
According to one critic, "BB King introduced us to sophisticated style guitar solo, based on smooth and shiny bendinge vibrato influenced almost every follower elektrogitarnogo blues".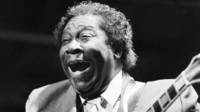 In 1957, he released his first album Singin 'The Blues. Total discography of the musician has more than 40 records.
One of his most famous songs is The Thrill Is Gone (1969).
BB King was one of the first bluesmen who began to use elements jazz and blues in his work, and then contributed to the development of rhythm and blues in the late 60s.
Pioneer
At the beginning of his career Bee Bee King played almost exclusively for black audiences. However, its original style and undoubted talent made him famous among fans of rock and jazz. He began to go on tour in Europe, where his records regularly takes first place in the charts.
The young musicians – among them Eric Clapton and Steve Miller – admired his style of playing the guitar and regarded him as a pioneer genre of rhythm and blues in the 60s and 70s.
BB King played a lot around the world. Until recently, he gave no less than 100 concerts a year.
In recent years, BB King does not record new albums and gave major concerts. His farewell tour was in 2006.
As a result of the 2011 Rolling Stone magazine poll BB King took sixth place in the list of the top 100 guitarists of all time.