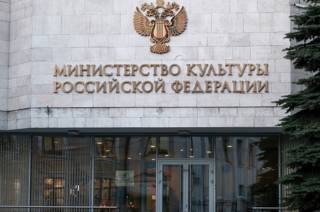 in the case of embezzlement of 50 million rubles (700 thousand. dollars) in the Russian Ministry of culture arrested another officer.
Lefortovo court of Moscow is confirmed BBC Russian service's press secretary Ekaterina Krasnov, on Friday ordered the arrest of two months the head of the Directorate for construction, reconstruction and restoration of the Ministry of culture Boris Tsagaraev.
media earlier Tsagaraev reported the arrest on criminal charges of embezzlement of budget funds during the restoration work. Restorer suspected of fraud.
Lefortovo court also sanctioned the arrest of an employee of the company "Baltstroy" Vladimir Svanbeka.
In early March, the Russian Federal Security Service reported on the investigation of cases of theft in the Ministry of Culture. Under suspicion service were senior officials of departments.
The charges were brought to several high-ranking officials of the Ministry of Culture.
In the organization of embezzlement of more than 50 million rubles during the restoration of monuments consequence suspects Deputy Culture Minister Gregory Pirumova . official property was arrested, and he Pirumov detained
Also in this case were arrested two officials -. Director of the Property Management Department and Investment Policy Ministry of Culture Boris Mazo and Director of FSUE "Tsentrrestavratsiya" Oleg Ivanov, and former "Baltstroy" company director Dmitry Sergeyev and Managing Director Alexander Kochenov. FSB also requested the arrest of businessman Nikita Kolesnikov.
"Baltstroy" participated in the reconstruction of the cathedral in St. Petersburg, the restoration of the walls and towers of the Kremlin, the Faceted Chamber of the Moscow Conservatory and the Triumphal Square, Solovetsky monastery, Izborsk Museum-Reserve and other objects.