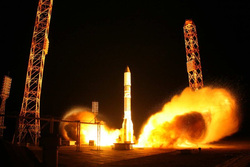 Today, the launch of the carrier rocket did not take place Photo: Roscosmos
The first launch of the carrier rocket with the new cosmodrome "East" has been postponed. He moved to the day. This Tass in Roskosmos. Publishing the source said that the launch postponed for technical reasons.
Earlier, the State Commission has decided to start the first rocket from the cosmodrome "East", writes "Interfax". "The State Commission on the results of refueling and overall preparedness of the cosmodrome" East "decided readiness of the carrier rocket" Soyuz 2.1a "for the first launch. Dan's team to run the automatic cycles prelaunch rocket and launch units and removal of the mobile service tower "- said the Russian Space Agency
It should be noted that the launch was scheduled for 5.01 Moscow time, but at 5.00 it was decided to move. . It was expected that the carrier rocket will orbit three satellites: "Lomonosov", "Aist-2D" and SamSat-218. It was reported that the Russian leader Vladimir Putin will oversee the launch of the missile.