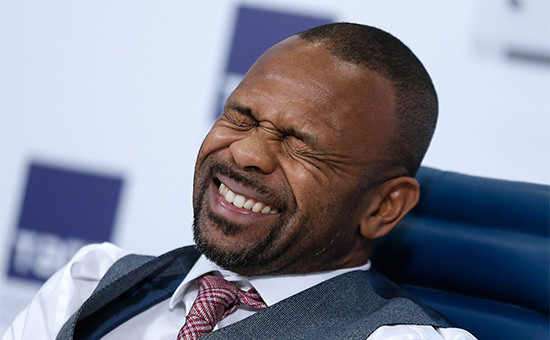 The boxer Roy Jones Jr.
Photo: Mikhail Japaridze / TASS
Ukrainian Ministry of Culture to complete the list of artists that threaten natsbezopanosti country. The updated list of 83 names were received Russian citizenship boxer Roy Jones Jr., and frontman of the American band Limp Bizkit Fred Durst.
In late August, Ukraine recognized the boxer Roy Jones violator of the state border. Before that, he met with Russian President Vladimir Putin in the Crimea. In September this year, the athlete has received Russian citizenship.
The leader of the Limp Bizkit Fred Durst stated desire to obtain Russian citizenship in early September. In October, the musician said that he would like to have a house in the Crimea, where his wife was born. On Monday, the Security Service of Ukraine has banned Durst entering the country for five years.
The blacklist Ukrainian Ministry of Culture has several dozen Russian actors, musicians and directors. They include Gerard Depardieu, Pavel Lungin, Oleg Tabakov, Grigory Leps, Alexander Rosenbaum, Vasily Lanovoi, Dmitry Kharatyan, Valentine Talyzina, Natalya Varley, Stas Peha, Lev Leshchenko, Iosif Kobzon, Sergey Bezrukov, Sergey Penkin and others.
The Office emphasized that, in accordance with the law, the TV channel forbidden to show films and programs with the participation of people who are off the list. December 22 about a similar ban on the eve of New Year celebrations reminded the National Council of Ukraine on television and radio.
On the eve of the representatives of "opposition bloc" of Ukraine announced its intention to challenge in court the ban on showing Soviet films, including "Twist of Fate or Enjoy Your Bath! ". This film can not be shown on Ukrainian television, as it is removed blacklisting Valentine Talyzina. Representatives of the bloc pledged to "do everything to make plans for the latter-day figures of culture were not fulfilled", calling the ban "undermine the foundations of common sense" (quoted by "RIA Novosti»).
Kiev is also engaged in drawing up a "white list" of activists culture. They included artists who, as I believe the Ukrainian authorities supported the territorial integrity of the country. The first version of the list were the musicians Andrei Makarevich, Zemfira and Yuri Shevchuk, Leah Akhedzhakova actors, Oleg Basilashvili and others.