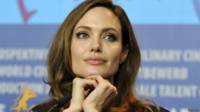 American actress Angelina Jolie announced that she had surgery to remove the ovaries and fallopian tubes because of the risk of cancer.
In his column in the New York Times 39-year-old Hollywood star said that a recent analysis was found a number of markers that may indicate early stages of cancer.
According to Jolie, surgery to remove the ovaries are less complex than a mastectomy, which the actress did two years ago, but the effects of the last operation is much more difficult: Remove ovaries leads to an artificial menopause.
"I no longer able to have children, and I expect that will happen in my body some changes. But whatever happens, I feel relaxed – not because I'm strong, but because it's part of life. Nothing to fear "- wrote the actress.
It is reported that Jolie is now undergoing hormone replacement therapy.
Mutated gene
Two years ago, Angelina Jolie made a mastectomy of both breasts – because of the fact that she is a carrier of the gene, which causes 87% of breast cancer.
After just two weeks after the star announced that voluntarily decided to mastectomy for breast cancer, died of her Aunt Debbie Martin.
She is the sister of the mother Marcheline Bertrand Angelina, who died from breast cancer in 2007 at age 56.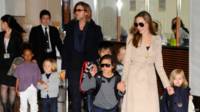 According to experts, the relatives on the maternal side of the actress had a common genetic defect in the form of the mutated gene BRCA1.
This gene is part of the genome of each individual, but in about one case in a thousand BRCA1 mutation gives a dangerous, which increases the risk of breast cancer in the 50-80%.
Angelina Jolie married to Hollywood actor Brad Pitt, they live together since 2005 and raise six children, including three adopted.
Pitt and Jolie are known for their active humanitarian activities. In 2001, Jolie became a Goodwill Ambassador for the United Nations High Commissioner for Refugees.
She also founded a number of charitable organizations, including Fund "Jolie-Pitt".