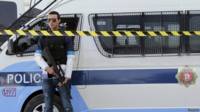 Grouping "Islamic state" has claimed responsibility for the attack on the Bardo Museum in Tunis. The victims of the attack was 23 people, almost all of them – foreign tourists.
Several dozen people were injured.
In a statement jihadist attack on the Bardo Museum called "blessed invasion into the lair of the infidels in the Muslim Tunisia".
The application IG appeared on an Internet forum where group usually publish their messages. Islamists also pledged to continue attacks.
Meanwhile, the Tunisian authorities announced the arrest of nine people in connection with the attack on the museum, said the administration of President of Tunisia.
The statement claimed that the four arrested are directly related with the attack, and five people have been associated with this cell.
The government also announced the deployment of military patrols in the major cities of the country.
to hide all night
Bardo Museum
The largest museum of Tunisia, located in the palace of the XV century postroki
8000 exhibits, including one of the world's largest collections of Roman mosaics
The age of some items is more than 40 thousand years
In 2009, the museum was attached a new wing, to double its area
On examination of the museum on Thursday were found two Spanish tourists and museum professionals, who were hiding in the building all night, believing that the attack is not yet over.
Among the wounded there are Russian woman at the moment she is in the hospital.
One of the attackers at the museum named Yasin Laabidi, reportedly was previously known to the authorities.
Laabidi Hatem and his accomplice were killed in Hashneui the storming of the police museum.
Most of the victims of the actions of extremists – foreign tourists, including citizens of Australia, Spain, Italy, Colombia, Poland, France and Japan.
More than 40 people injured.
The names of those arrested on Thursday called people do not, and are not reported how they were involved in the attack.
It is known that at least one of the attackers was trained at the camp Islamists in Libya.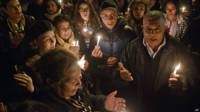 The Minister of Culture of Tunisia Latif Lakhdar promised that the Bardo Museum will take visitors back in the next week.
Fight against terrorism
President Tunisia Beja Quaid Es SEBS called for a ruthless fight against terrorism after the attack on the museum.
According to Es-SEBS, his country is at war on terror.
"This monstrous fringe We do not scare – he said in an address, which was broadcast on national television. – We will fight them to the end, and without mercy ".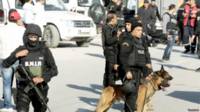 "Democracy will survive and win," – he added.
Prime Minister Hibib Essid called the incident a critical moment in the history of the country, which will be decisive for its future.
At the time of the attack on the Bardo Museum at the nearby parliament building in Tunisia just conducted a discussion of the new anti-terrorism legislation.