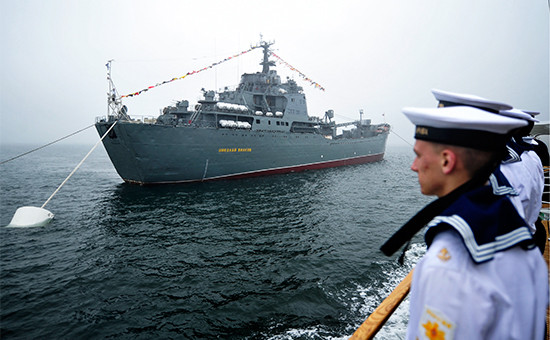 Photo archive
Photo: Yuri Smityuk / TASS
The ships of the Pacific Fleet (PF) began to search for people with the cargo ship "Paramushiro" crashed near the Kuril Islands. This was announced by Head of the TASS information support to the press service of the Eastern Military District Captain First Rank Roman Martov.
It is reported that the accident are informed in the Kuril Islands ships and vessels of the Pacific Fleet. According to him, they are "visual search of the missing people in the ocean».
Martov said that the search for missing sailors ready naval aviation of the Pacific Fleet. "Military aviation is always ready to take off in search of the missing people, and if needed, can continue to crash in a predetermined area in the coming days," – said the representative of the Pacific Fleet.
He also noted that the possibility of anti-aircraft fleet allow at this time of the year to hold in the air the whole day.
scow "Paramushiro" overturned near the Kuril Islands Shumshu. The vessel discovered evening of October 17 a passing ship "Aldan". According to MOE, in the hulks were five crew members. The ship sent from North Kurilsk in Petropavlovsk-Kamchatsky. As a result of search and rescue operations organized by the crew of the ship "Aldan", was found inflatable liferaft, which is located inside one person. The search for the remaining four continued.
As already written RBC escaped sailor said that the crash happened suddenly.
«39-year-old sailor told the psychologist the Emergencies Ministry, met him at the port of Petropavlovsk-Kamchatsky he went on deck to smoke a scow, when the vessel capsized. A man jumped into the water, swam to the inflatable liferaft and climbed into it, so alive, "- told in the EMERCOM of Russia for Kamchatka region.
According to the CCJ, the investigating authorities of the Far Eastern Investigation Department of Transport IC Russia opened a criminal case on grounds of crime under part 3 st.263 Criminal Code (violation of safety rules and operation of water transport, resulting in the death of two or more persons).
According to the investigation, self-propelled Truck pontoon "Paramushiro" belongs to LLC "Sakhalin Navy." On board were five crew members: captain, chief mate, chief engineer, second engineer and sailor. The ship distress signals are not supplied, the investigators noted.